Registration for the fifth course term 2023 is now open for online or offline course formats on our website. Learners ages 18 and above can sign up now for our standard German language courses between October and December 2023.

Please note: lessons cannot be made up later if missed, be substituted by classes in other courses or transferred to persons unregistered to the booked course. Please read the "Terms and Conditions agreement" and the course dates included in our online registration website carefully when registering online.

Offline Course Formats
Under the current conditions we are happy to be able again to offer offline courses for specific levels: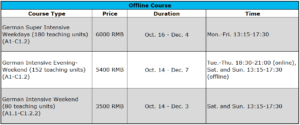 *Registration fees of 100 RMB are included in the course price. Textbooks and other course materials are provided free of charge. Participants can pick up the materials at their course facility on the first day of class.
*Course location: The offline courses will be arranged by Goethe-Jinchuang according to the number of registered participants. The specific address of each course will be sent to participants by SMS and E-mail within three days before the course starts. All facilities are located in Jing'an District.
Online Course Formats
Equipment requirements: Computer with microphone and camera, stable internet connection, downloaded zoom software. After successful registration, we will provide you with a guide to using the zoom software.

*After finishing one term of our course you can advance a full, half, quarter, or eighth CEFR level. For our offers on the C2 level, please contact us directly.

*Registration fees of 100 RMB are included in the course price. Textbooks and other course materials are provided free of charge. All materials will be sent to participants by courier after successful payment of the course fees.
Important:
If the minimum number of participants for a course is not reached, we reserve the right to reschedule or cancel this course. In this case, course participants, who have already registered, can choose to have their course fees reimbursed or – if possible – to switch to another course.
Contact us:

E-mail: kurse.shanghai@goetheslz.com
Tel.: 021-32220316
Also, consider live consultations via our public WeChat account at the following times: Monday through Friday 9:00am-5:30pm.
To contact us through WeChat, please click the keyboard icon at the bottom left of our WeChat channel.
Registration:

Please use our WeChat mini program for your registration. Important: the menu navigation of the WeChat mini-program is in Chinese. Non-Chinese speakers please register directly by email (kurse.shanghai@goethelsz.com) for your desired course.