Dear friends, 
thank you for your continuous attention and support to our course. The Goethe Language Center of Qingdao University will continue to offer high quality German courses in the spring semester of 2023. In particular, starting from March 2023, Goethe Language centers across the country will implement unified standards for teaching units and course fee for the German Super Intensive Weekdays Course, German Intensive Weekend Course and German Intensive Evening-Weekend Course. The specific arrangements and tuition adjustments for our new course are as follows: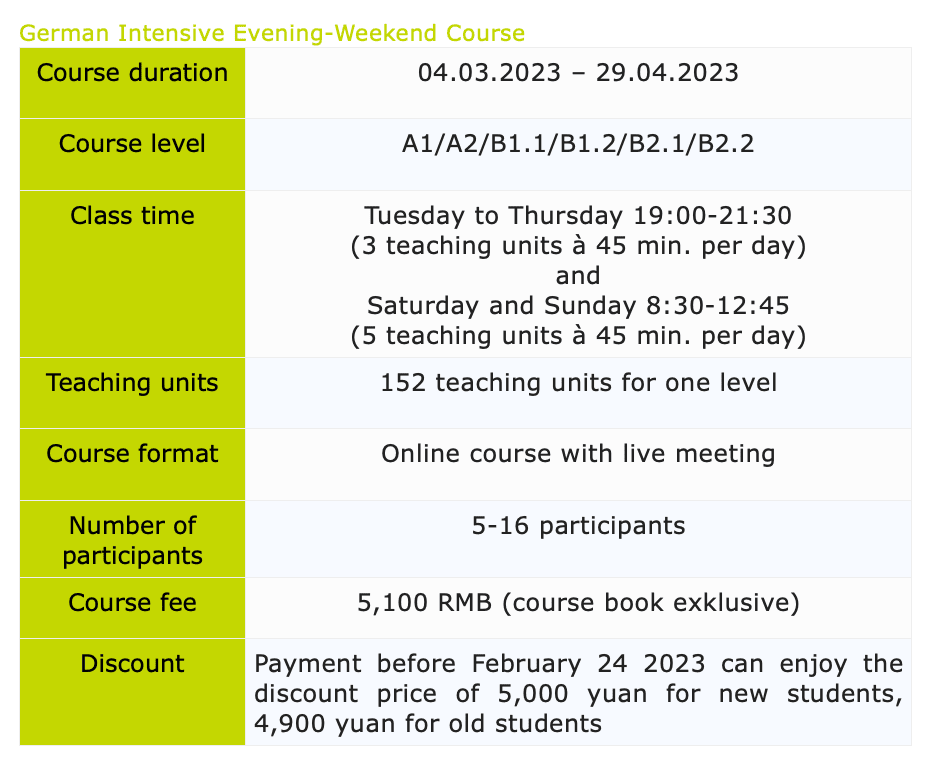 Note:
If the number of students is less than 5, The Goethe Language Center reserves the right to postpone the course or not to offer the course at this level.
Please feel free to contact us by email or by phone if you have any other wishes or suggestions about the class time (see below for contact information).
Registration:
Please send an email to info.qingdao@goetheslz.com with the following content: Student's name + date of birth + city + course level + contact number (please make sure the information is complete and correct).
After submitting the application, you will receive a confirmation email within 3 working days. Please check your email. If you haven't received a reply yet, please call 0532-85950060 for details. Seats are limited and will be filled on a daily basis.
(* Due to the impact of the epidemic, the office area is currently under closed management. People from outside the school are temporarily unable to enter the office for face-to-face consultation and registration. Please contact us by phone or email first.
Appendix:
To register for A1 or above courses, you need to submit the class certificate of any A1 or above courses of Goethe Institute or Goethe Language Center within six months or submit the A1/A2/B1/B2 language certificate of Goethe Institute obtained within six months.
Those who do not have relevant language certification must take the grading test, which costs 100 yuan. Please book your test time by email or phone.
Course content and format:
We offer our students learner-oriented, communicative and behavior-oriented German course based on Common European Framework of reference for languages. The learners can improve their language ability (listening, speaking, reading and writing), optimize voice training and acquire national knowledge through this course.
Course materials:
Students can purchase their own course materials online: 
For A1, A2, B1.1, you need to purchase the course book "Communicative German Course" 2nd edition (Studio 21), the exercise manual (recommended) and the vocabulary manual.
B1.2, B2.1, B2.2, and C1 are required to purchase the "Aspekte|neu" course book and exercise manual (recommended).
Contact us:
E-mail: info.qingdao@goetheslz.com    
Telefon: 0532-85950060 
Address:508, Building D, Qingdao University Science Park, 9. Hong Kong East Road, Laoshan District, Qingdao